Meal Applications
Eligibility Guidelines
Turn in Applications to:
Apply on-line in the convenience of your own home.
For assistance please call:
562-210-2052 or 562-210-2146.
Meal Applications
2020-2021 Meal Applications
are available now!
A new meal application is required every school year.
Meal applications help to support educational funding.
Submit your meal application now! Click Here.
Need help paying for internet access? Fill out a meal application!
AT&T has a special promotion for families approved for free/reduced school lunches: All fees waived until 9/30/2020! Fill out a meal application today to see if you are eligible for meals at no charge to you.
For more information on the AT&T promotion: English Spanish
If you do not usually apply, but have been laid off, apply promptly so that no meal debt is incurred for your family.
It is the responsibility of the parents/guardians to either:
1. Submit a new meal application; 2. Pay for student meals; 3. Or send the student to school with a meal.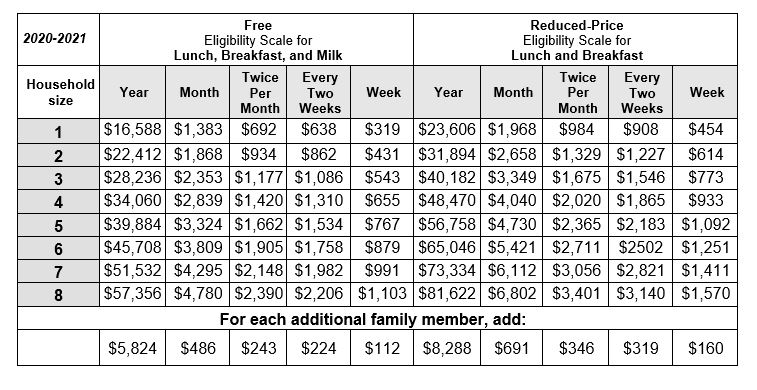 Household includes anyone living under one roof.
For convenience, any paid meals charges will be billed to the parents. Ala Carte charges are not allowed. You may pay in advance for your meals online at www.k12paymentcenter.com. Money will not be collected from students on the meal line, during the pandemic. Meal debt will be collected from the parents/guardians. Parents/guardians are responsible for all meal charges until an eligibility has been determined. Eligibility notification letters will be e-mailed or mailed once your eligibility has been determined for the new school year. Submit your meal application now at www.lunchapplication.com, or call 562-210-2146 for assistance.
Complete one application per household.
Se requiere una nueva solicitud de comida cada año escolar.
Las solicitudes de comidas también ayudan a apoyar la financiación educativa.
Si por lo general no aplica, pero ha sido despedido, solicite lo más pronto posible para que no se contrate ninguna deuda de comida para su familia.
Es responsabilidad de los padres/tutores:
Someter una nueva solicitud de comida; 2. Pagar las comidas de los estudiantes; O mandar al estudiante a la escuela con una comida.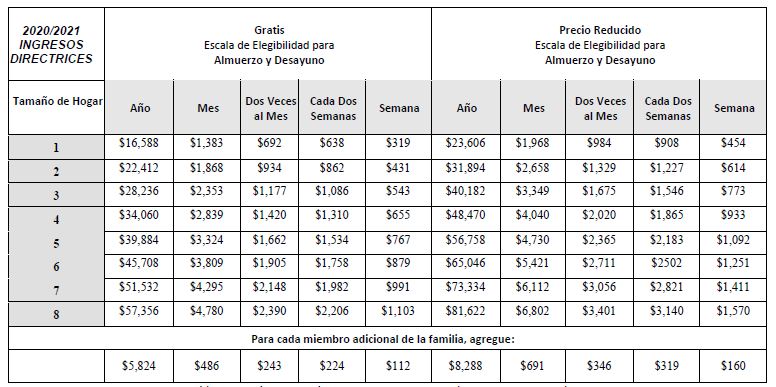 El hogar incluye a cualquier persona que vive bajo un mismo techo.

Para su conveniencia, los cargos por comidas se facturarán a los padres. No se permiten cargos de Ala Carte. Usted puede pagar por adelantado por sus comidas en línea en www.k12paymentcenter.com. El dinero no se recogerá de los estudiantes en la línea de comida, durante la pandemia. La deuda de las comidas se cobrará con los padres/tutores. Los padres/tutores son responsables de todos los cargos por comidas hasta que se haya determinado una elegibilidad. Las cartas de notificación de elegibilidad se enviarán por correo electrónico o por correo una vez que se haya determinado su elegibilidad para el nuevo año escolar. Envíe su solicitud de comida ahora en www.lunchapplication.com, o llame al 562-210-2052 para obtener ayuda.